Build & orchestrate
on your own terms
Expand your reach and take advantage of cross-industry data sharing to bring new unmatched actionable insights
Expand your reach and build an ecosystem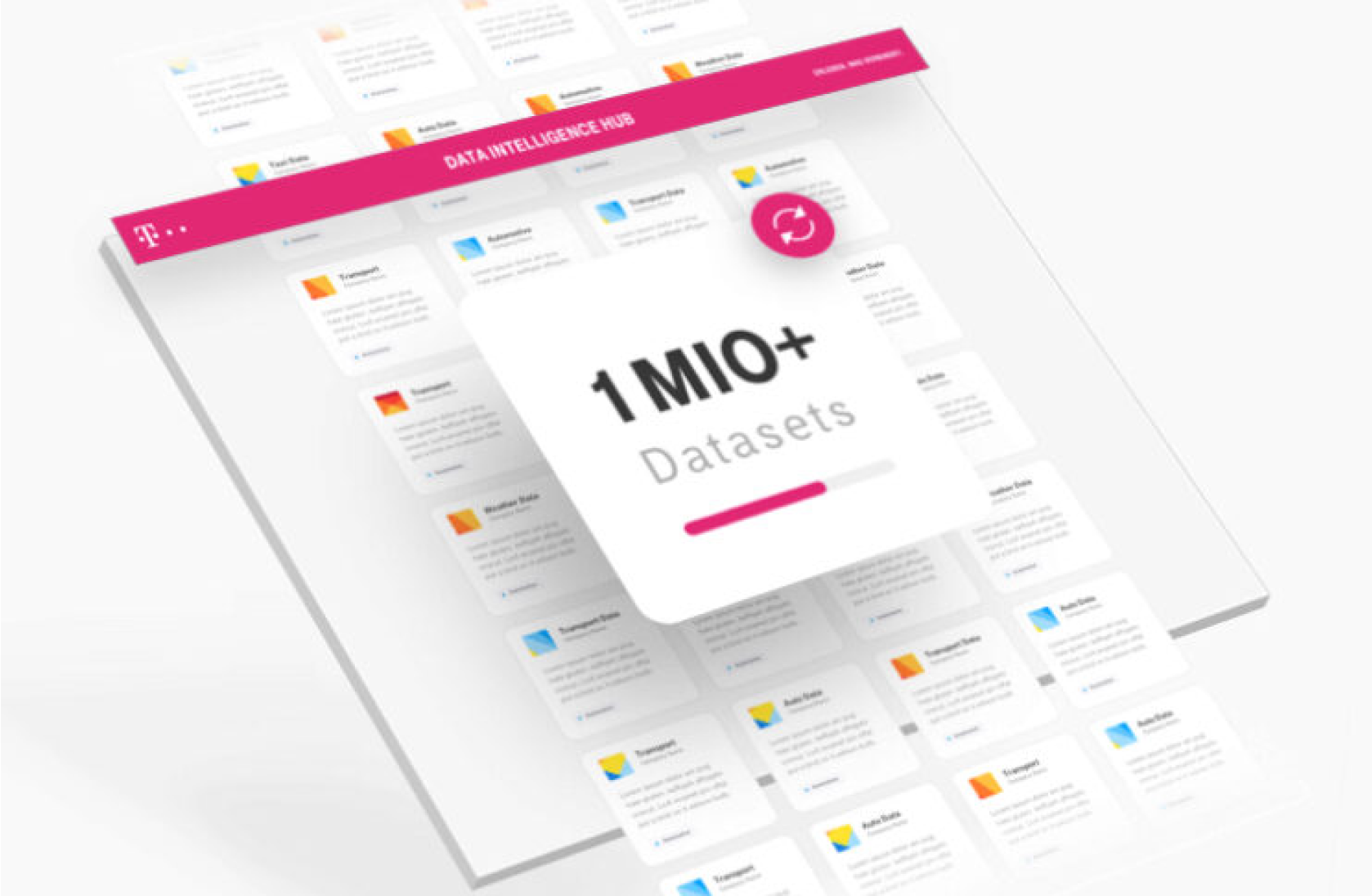 Data marketplace
Exchange and process data both in and beyond your own sector: The marketplace provides entirely new ways to execute your data strategy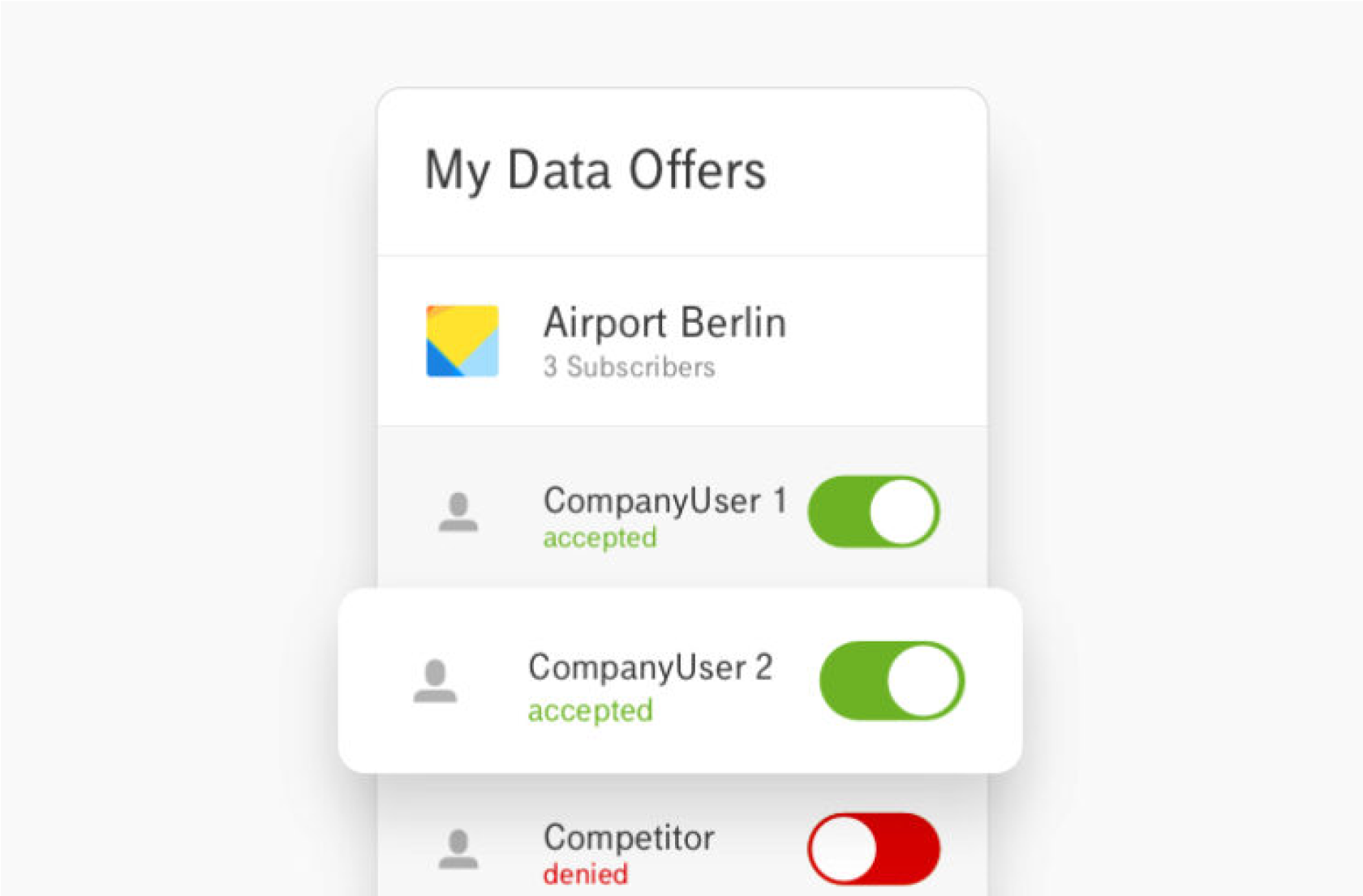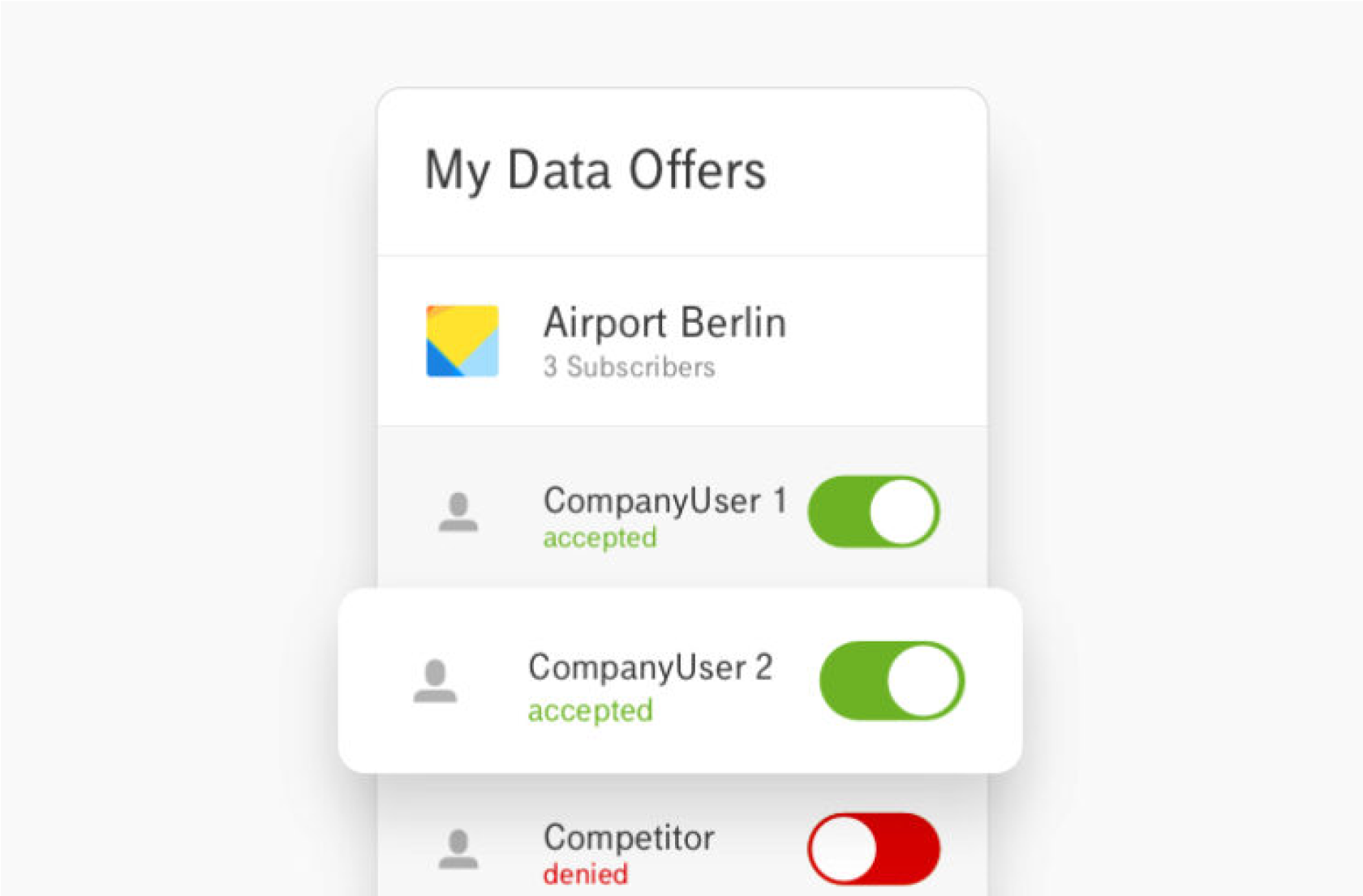 Full control
Publish your data and analyzes individually: Who is allowed to view them, who to explore, who to process? All could be managed at once in the Data Intelligence Hub
Let the Data Flow to you with Data Mesh
Break the silos in and out of your organization and get the true value out of data without changing your existing data infrastructures while keeping control over your data sovereignty. Don't move systems – let the data flow to you.
I want a Europe that is a pioneer in important key technologies. Take the mobility of the future. Data will play a decisive role in this - for autonomous driving, in the networking of different means of transport or in the intelligent management of traffic flows. That's why we need a uniform, cross-border European mobility data space as quickly as possible. We have made a start in Germany with the Mobility Data Space. Let's link it up with all of Europe!

Olaf Scholz

Chancellor of Germany

It is absolutely vital for companies to protect their sensitive business information. It is therefore hugely important that the Telekom Data Intelligence Hub enables them to decide for themselves under what conditions they allow partners access to their data.

Lars Nagel

Managing Director IDSA

What is fundamentally different about the Telekom Data Intelligence Hub is that it's the first commercial system to be deployed that is compliant with the specification released in late 2017 by the International Data Spaces Association (IDSA).

Martin Garner

from CSS Insights

DT's new Data Intelligence Hub illuminates DT's ambitions to be a neutral data custodian on behalf of enterprise. Excellent security credentials and empowering business customers with data sovereignty combine to give very strong possibilities.

Joel Stradling

from Global Data
Interconnect
Integrate and orchestrate dataspaces to a universal data ecosystems and composition. Implementing interoperability of dataspaces and developing dataspace networks for cross industry/regional transactions, insights and benefits.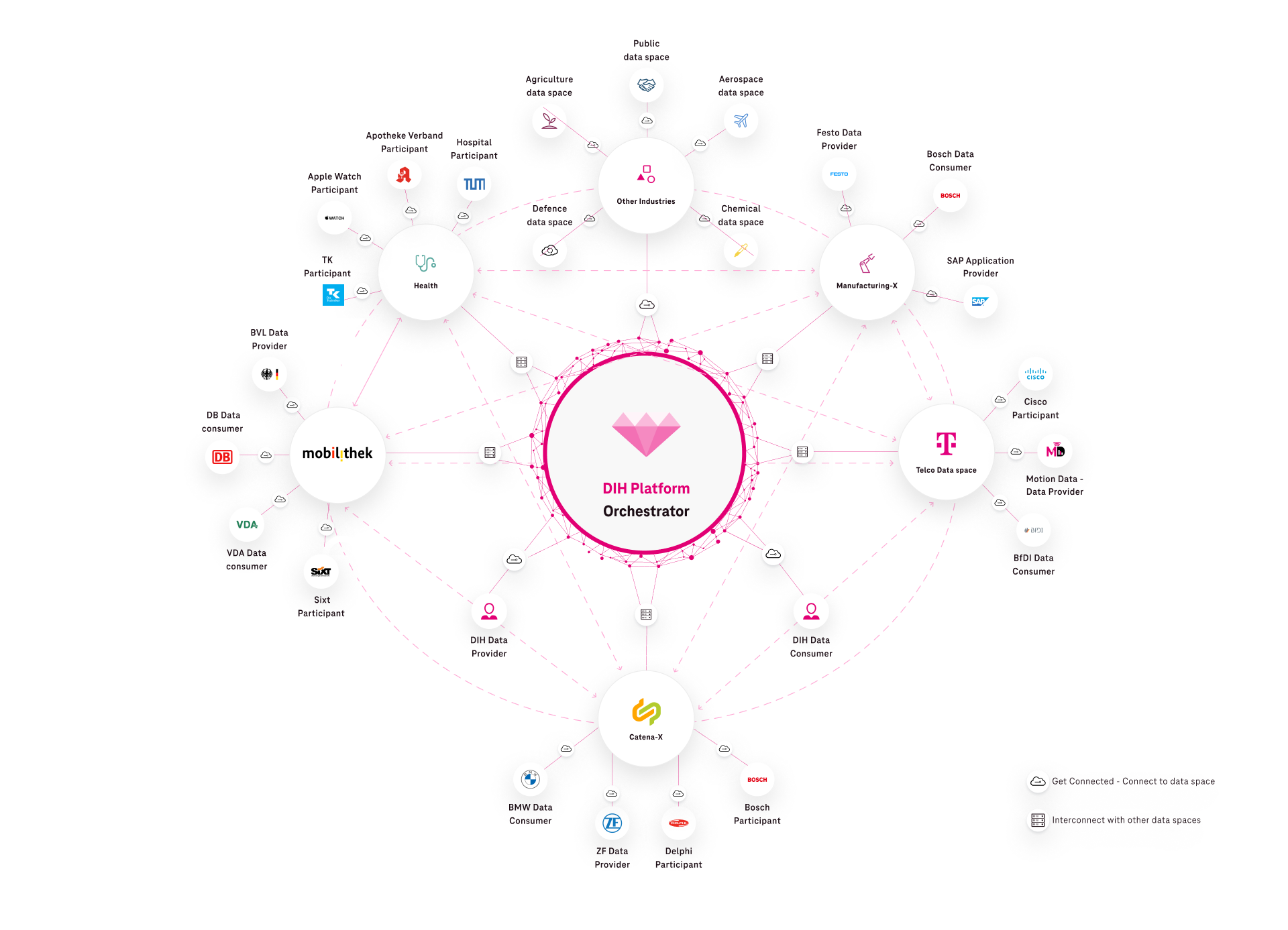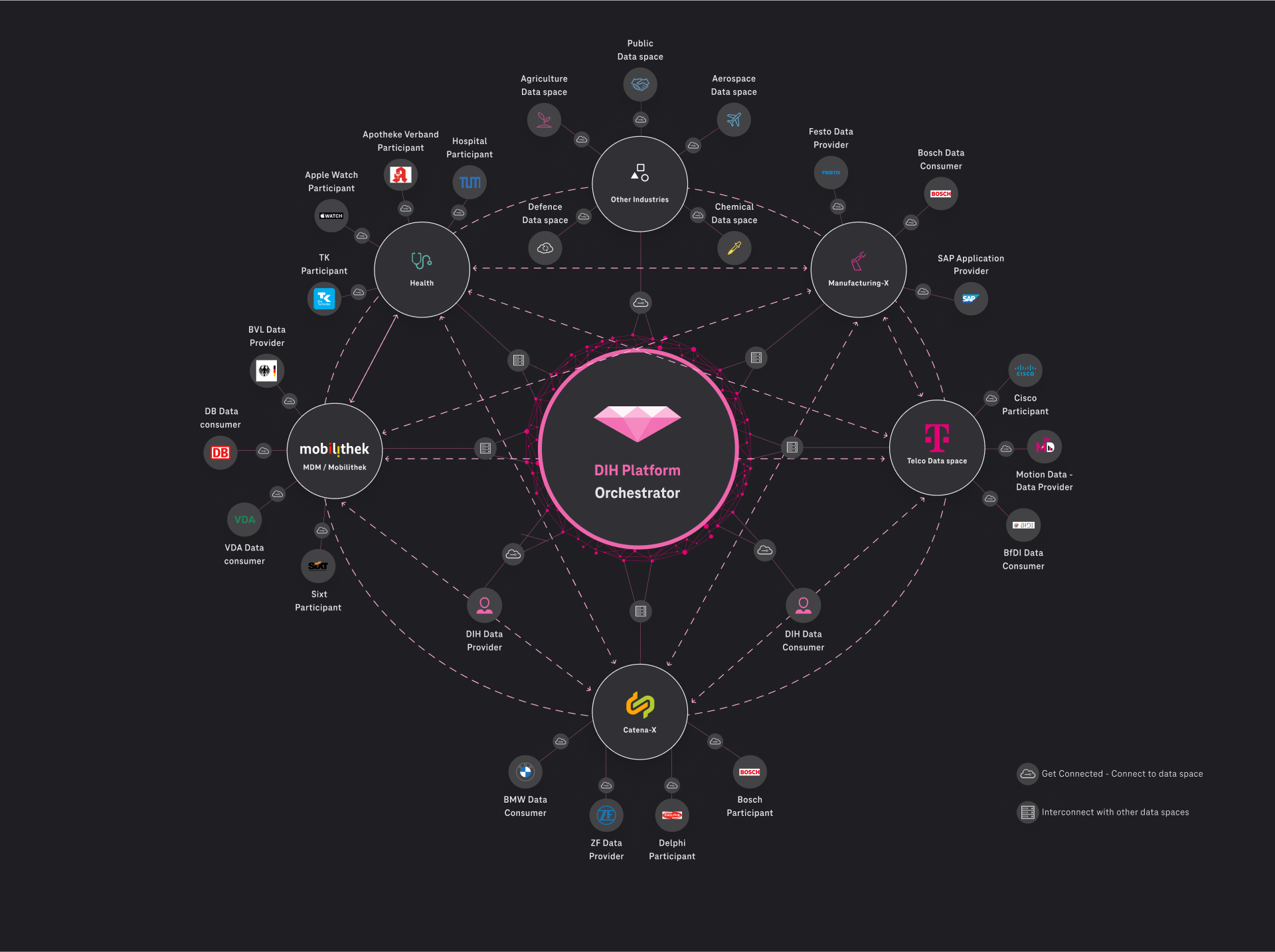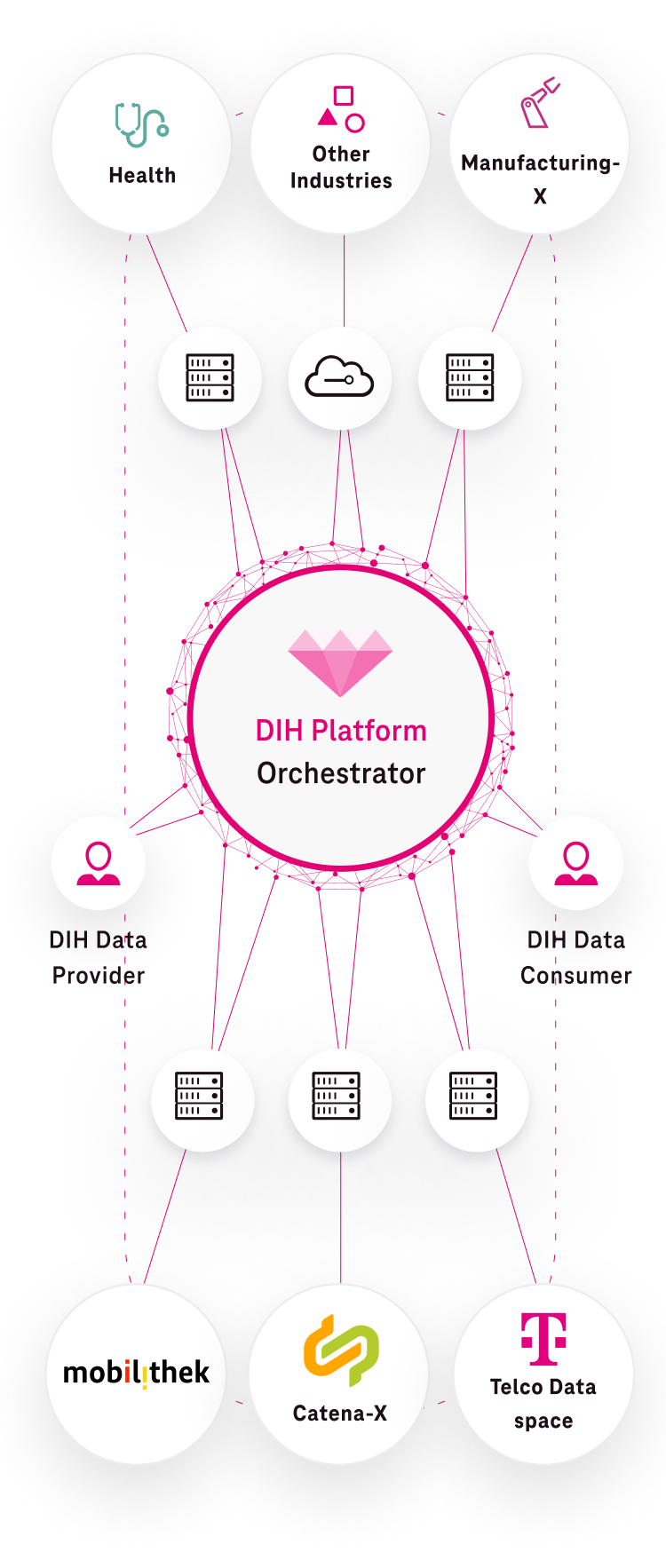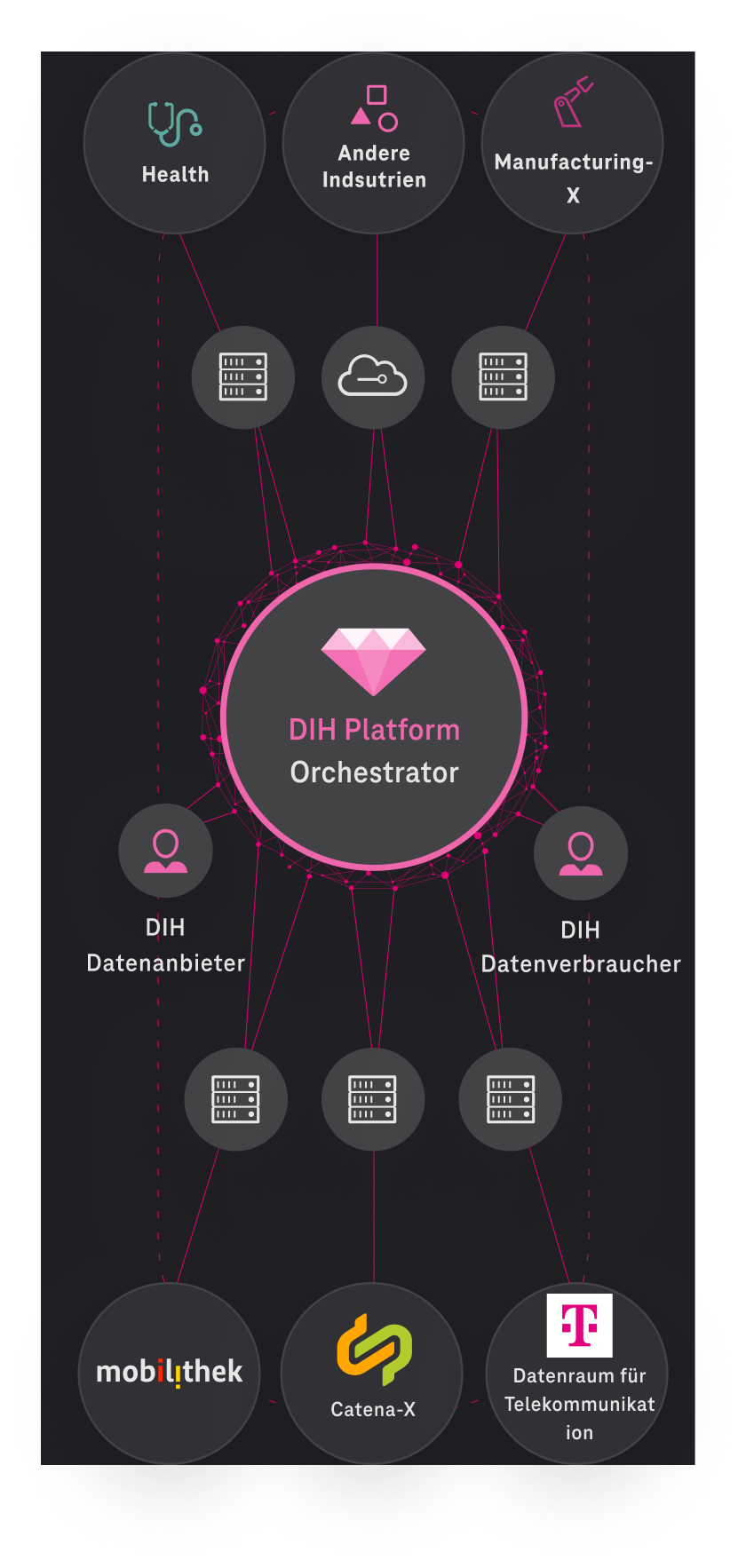 Get Verified: DIH - Digital.ID
Verified credentials from government authorized trust anchor to become a trusted participant in dataspace ecosystems
Trustful

T-Systems' independent and secure global network entrusted with the initial Gaia-X digital clearing house node in Europe

Interactive

Highly intuitive UI for credential holder along with easy-to-use recipient & credential lifecycle management

Intelligent

Scoring service based on custom parameters to allocate different trust-levels across dataspace participants for added trust

Cloud Agnostic

Our cloud-agnostic connections run on-prem and on any cloud, including Sovereign plus

Interoperable

Take your credentials to other data-driven ecosystems for complete interoperability within data mesh contex

Conform

Gaia-X or custom compliant
JWT conform
eIDAS regulation conform certificate
Your benefits
+

Flexible and fast set-up of dataspace Mesh to address overarching business challenges

+

Strengthen your network by adding more participants, data, and applications

+

Stimulate collaboration and co-value creation by building partnerships

+

Experience full data sovereignty even between various dataspaces

+

Set-up business federations by composing selected dataspaces

+

Interconnect enables the creation of regional or industrial dataspace networks
Motion Data
Bring the benefits of consumer analytics to your B2B applications. Gain deeper insights into value chains and improve services and productivity with data analytics from Motion Data, all based on anonymized data processing. Our technologies were developed in close collaboration with the German Federal Commissioner for Data Protection and Freedom of Information (BfDI) and have been examined and certified by external data protection inspection agencies.




Your benefits
+

Strong data processing and anonymization policies developed in cooperation with Germany Privacy authorities

+

Data assets delivered via Telekom Data Intelligence Hub to ensure trustful and secure sharing on any cloud of your choice

+

Access to Motion Data either via standard products with tailor-made subscriptions, or via project based requirements as per your needs

+

High data accuracy and reliability based on the largest and the best network in Germany: Deutsche Telekom

+

Wide range of KPIs and metrics to assist you in your data analytics and decision making processes