Boy, Germany's auto business is in a pickle … and probably all of us! Automotive has been a strong and reliable engine of growth, jobs, wealth and innovation for the German and European economy. Now, it suffers from its own success: too many cars everywhere, ever longer traffic jams, air pollution, noise (see "Stuck in traffic," link): On top of it, digitalization and new tech like electrification and autonomous driving are transforming the global auto industry and shifting revenues from selling hardware to providing services (see "Service shift," link). Now, the government and the Bundestag, have become involved to support key stakeholders to accelerate digital solutions toward a new, better performing mobility system.
Sustainable mobility
Germany's politicians are taking action as milestones to reach the climate goals for the "Energiewende" in 2050 are around the corner (link). With the Climate Action Program the Federal Government is leading Germany into a greenhouse gas neutral future (Eddy 2019) and providing financial assistance and supporting the industry as well as research and development projects in various sectors (link).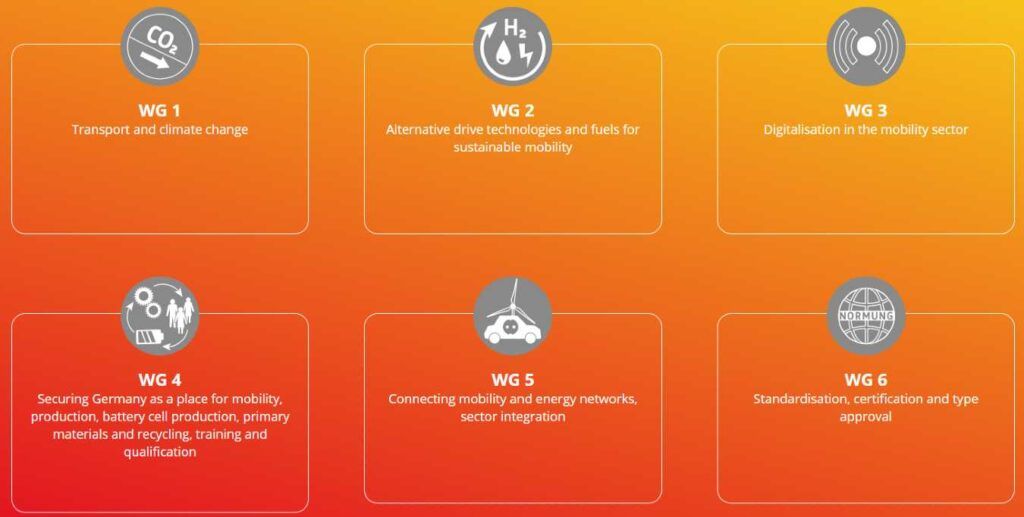 Which way to turn? Ask NPM
In 2018 Chancellor Angela Merkel's cabinet initiated the National Platform Future of Mobility (NPM, link). Under the leadership of Germany's Federal Transport Minister Andreas Scheuer, NPM has been tasked to enable a transition toward better, more sustainable and affordable mobility while ensuring economic competitiveness and compatibility with German culture. NPM has invited the country's most affected, influential and innovative actors, such as automakers, unions, R&D experts and consumer protection agencies, to help shape recommendations for decision-makers (NPM 2019). Its steering committee is chaired by Prof. Dr. Henning Kagermann, a physicist and former chairman of the Executive Board and Chief Executive Officer of SAP AG and a veteran of past national initiatives, like electric mobility and Industrie 4.0 (BMWi, link). Deutsche Telekom AG is involved as well, led by Mr. Adel Al-Saleh, Member of the Board of Management and CEO of T-Systems (link) and Mrs. Steffi Kreusel, Member of the Supervisory Board Deutsche Telekom AG (link). In order to accomplish its ambitious agenda, NPM is organized into six working groups (WGs) (see Figure 1).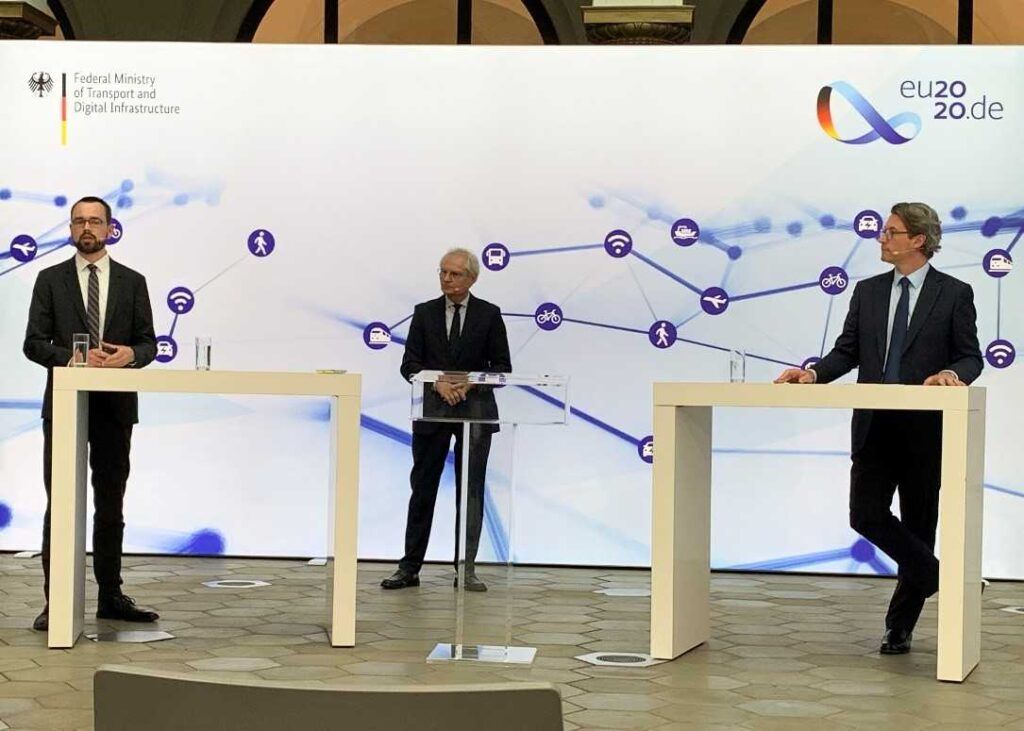 Working group 3: Digitalization
Our Telekom Data Intelligence Hub team became involved in WG3 lead by Klaus Fröhlich, Member of the Board of Management of BMW AG (who will retire this summer and be succeeded by Frank Weber). Specifically, we contributed in a subgroup of WG3 on Data & Artificial Intelligence run by Niklas Veltkamp, board member of Bitkom, Germany's leading digital association representing 2700 companies (Bitkom, link). Key contributions included concepts on data interoperability with data sovereignty for highly data dependent services, such as intermodal mobility, which is about the linking of various modes of mobility into a seamless journey from point A to point B: Drive your car to a Ride & Drive station, park the car, board a local train, get off the train, hop on an e-scooter and ride to your office.
A real-life laboratory and sandbox: Stop writing, start doing
As a successful auto development executive, Mr. Froehlich knows what it takes to develop a hit product: Paper only goes so far. Instead, you have to get into the field, try out ideas, build prototypes and test it in the real world under real life conditions. So, he initiated what became RealLabHH. It is a laboratory and "sandbox" for first NPM recommendations (BMWi, link), and it will be hosted in the city of Hamburg under the leadership of Hamburger Hochbahn and its CEO, Henrik Falk (link). Hamburg is an excellent choice because it is a hotbed of mobility innovation and will host the 2021 ITS World Congress, the world largest event with a focus on smart mobility and the digitalization of transportation (link).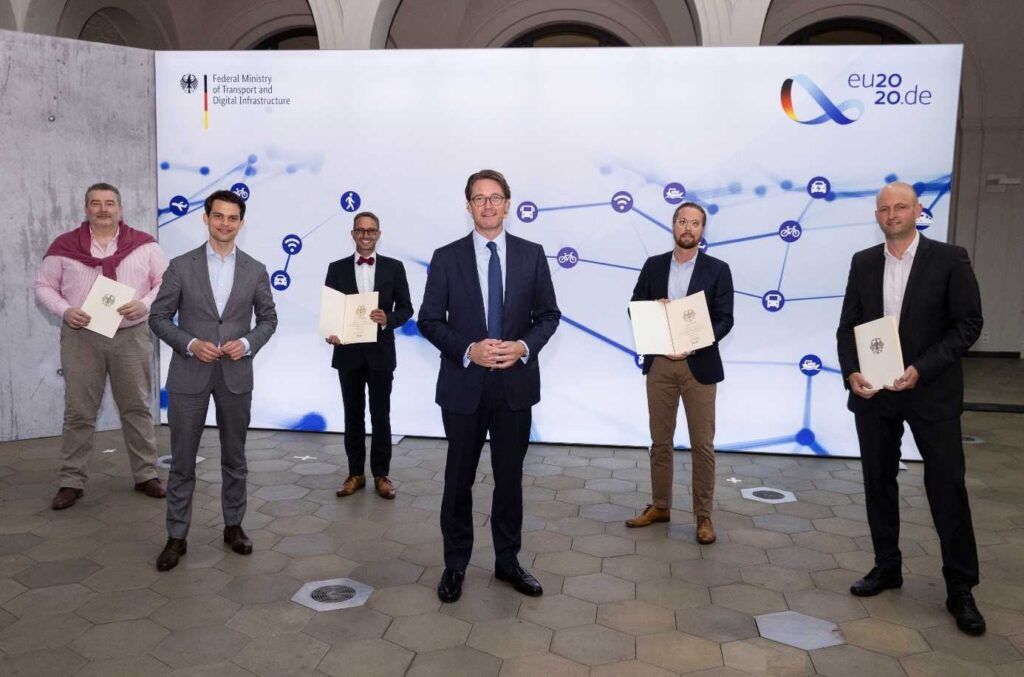 RealLabHH: Prototypes and results for the 2021 ITS World Congress
"Leading German companies will use the possibilities of the RealLabHH to "utilize the increase in digitization for our mobility and create innovative new services for people to experience [… and …] gain valuable insights by testing various intelligent mobility solutions simultaneously [… in order to …] make a contribution to climate protection." (Federal Minister Scheuer, link). Dr. Christoph Ploß (parliamentary representative of the CDU) agrees: "With the help of digital mobility solutions, we will mainly strengthen public transportation in Hamburg and make it even more attractive" (Arndt 2020). Results will be presented at the 2021 ITS World Congress in Hamburg.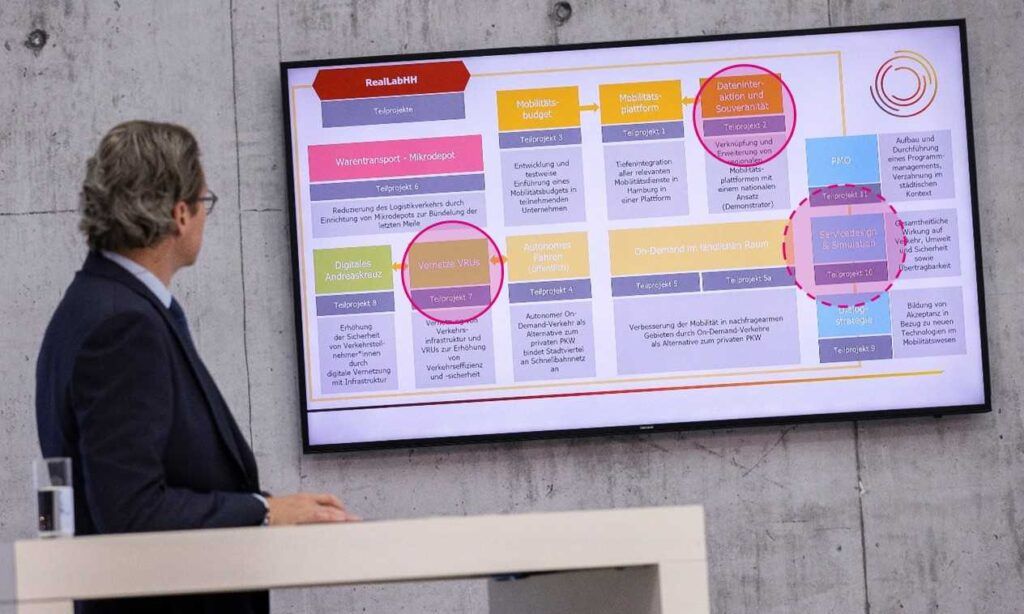 Telekom: Enabling new mobility that is safe and secure
Deutsche Telekom is contributing to RealLabHH with technology, data analytics and systems integration expertise to enable new mobility concepts that can protect both vulnerable road users as well as data rights. Steffi Kreusel and Prof. Dr. Christoph Schlueter Langdon handled the application package and coordination with the Federal Ministry of Transportation. Specifically, Telekom will contribute with three modules:
"Linking Vulnerable Road Users (VRU)" organized by Dr. Johannes Springer and run by Peter Christ, both 5G and automotive experts in T-System's Digital Division. This module is developing an edge computing service-platform to save lives in traffic together with the partners BMW, Continental and Fraunhofer Fokus. The platform links various infrastructure elements such as traffic lights and St. Andrew's railroad crossing signs to help protect road users that are particularly vulnerable, such as pedestrians and cyclists. This has become a hot topic since the Corona pandemic has dramatically increased bike ridership in cities.
"Data interaction & sovereignty," organized by the team of the Telekom Data Intelligence Hub Team and overseen by Prof. Dr. Christoph Schlueter Langdon. Together with the Urban Software Institute (link) the DIH team will demonstrate how new data standards can facilitate data interoperability to allow for new mobility services. Specifically, DIH will provide an "IDS_ready" connector based on the IDS reference architecture model (Otto et al. 2019) of the International Dataspace Association (IDSA), which can facilitate the peer to peer data exchange of federated dataspaces so that rights to data can be protected (see "Implementing IDS," link)
"Data cockpit:" The Telekom DIH will use its platform and components to support DLR (Deutsches Zentrum für Luft- und Raumfahrt, german aerospace center, link) with data processing and analytics for presentation of overall RealLab results. Components will include for example the DIH's analytics workspace and data exchange capabilities.
The team of DIH is known for its deep mobility analytics expertise and has experience simulating intermodal transport (see "Stuck in traffic," link). Now, RealLabHH provides an opportunity to try it out in real life, with real citizens and real partners, such as Hamburger Hochbahn and others. Will it work? For a first glimpse under the hood check out how we ran intermodal scenarios in our "Matrix" or Berlin Digital Twin: link
Resource
Arndt, M. 2020. 21 Millionen für besseren Verkehr. Bild, (July 15), link
IDSA Blog. 2019. Implementing IDS (October), link
Eddy, M. 2019. Germany Passes Climate-Protection Law to Ensure 2030 Goals. The New York Times (November 15), link
NPM, National Platform Future of Mobility. 2019. Progress report 2019 (December), link
Schlueter Langdon, C. 2018. The Auto Service Shift and 7 Gaps. Working Paper, MGT 317 Smart Products, Peter Drucker School of Management, Claremont Graduate University, LA county, link
Schlueter Langdon, C. 2020. Quantifying intermodal mobility: A parsimonious model and simulation. Working Paper (WP_DCL-Drucker-CGU_2020-06), Drucker Customer Lab, Drucker School of Management, Claremont Graduate University, Claremont, CA, link
Otto, B., S. Steinbuß, A. Teuscher, and S. Lohmann. 2019b. Reference Architecture Model Version 3.0. International Dataspaces Association (April), Dortmund